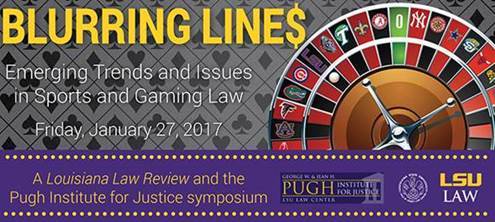 Sports and Gaming Law:
What can NCAA athletes say on social media?
What is the future of fantasy football?
Are student athletes employees and should they be paid as such?
What law governs riverboat casinos?
On January 27, the LSU Law Center, the Pugh Center for Justice, and experts from across the country will discuss and analyze these complex issues in the sports and gaming industries. Please join us for this exciting Symposium. This Symposium qualifies for 7 free CLE credits in Louisiana and lunch is provided. See you there!
Register here: https://law.lsu.edu/symposium/