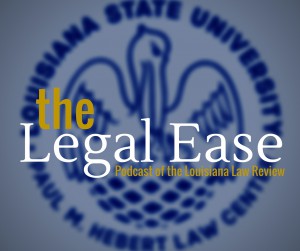 The Legal Ease—Podcast of the Louisiana Law Review is an academic podcast aimed at apprising legal students and professionals of relevant legal topics in an easy and convenient platform.
A podcast is essentially a digital radio show. Listeners can access podcasts from our website or from iTunes, using a computer or a smart phone. Unlike traditional radio programs, listeners can access recorded shows whenever they like. They can pause and restart as they choose. Think of it as a modern and more convenient radio show—a radio show that is actually citable, per The Bluebook.
Listen now! Click here for current and past episodes
To contact the podcast crew, send an email to llrpodcast@gmail.com or tweet us @lalawreview.